Businesses Filing Bankruptcy 2017-2018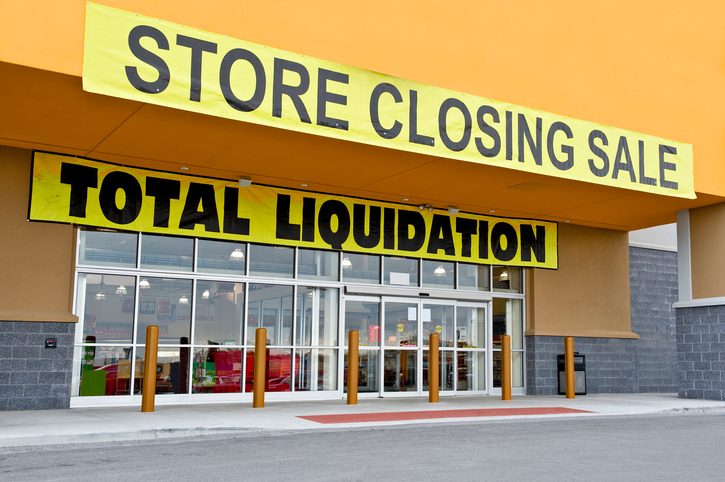 Jul, 30 2018
Some of America's most well-known businesses, especially in the clothing and apparel sector, are struggling to keep the doors open. Reasons for the financial collapse of these once thriving establishments vary, but businesses filing bankruptcy this year have one thing in common. Their glory years have seemingly passed.
Kids Kiss Geoffrey the Giraffe and Toys 'R' Us Goodbye
One of the most beloved businesses filing bankruptcy in the past year was Toys 'R' Us. The news was a sad blow to millions of customers who'd grown up with the brand and enjoyed bringing their own children to the store. It seemed like the end of an era. Was it because children are now more interested in iPhones than Barbie and G.I. Joe dolls? Perhaps it's because competitors like Amazon, Walmart, and Target the like had gobbled up all the shoppers.
What Toys 'R' Us really has to blame for its descent into the depths of bankruptcy is its own crushing $5 billion debt. After acquiring struggling competitors who themselves filed for bankruptcy, like KB Toys, eToys.com, and F.A.O. Schwarz, Toys 'R' Us found itself overextended.
Before long, the Geoffrey the Giraffe would be packing it in and heading for greener plains. The bankruptcy started in September 2017. By March of 2018, the company announced the liquidation of all U.S. stores. As a result, an estimated 50,000 people lost their jobs.
Piercing Debt Brings on Bankruptcy for Claire's Boutiques
Slightly older kids of the female variety have perused the earring racks at Claire's stores in malls across the country for decades. The ear-piercing palace was a favorite destination for teen girls back in the hay day of the mallrat life, but declining interest in mall shopping has crushed sales.
Officially, sales were considered to be down due to competition from the big-box stores, mall loss of other attractive stores, as well as the upswing in online shopping. A public scandal arose, however, when Claire's CEO Ron Marshall took home $2.7 million in 2017 while laying off employees and closing 92 stores.
The Limited has Reached its Limit
Another mall staple, The Limited, filed Chapter 11 early in 2017, having closed all of its 250 stores nationally. In October of the same year, the store returned as an online-only retailer. That was after a private equity firm snatched up all of The Limited's intellectual property.
The firm Sycamore Partners owns all of the company's trademarks, domain name, and social media presences. That same private equity firm owns other apparel assets that include Belk department stores, Nine West footwear, and Coldwater Creek.
BCBG Max Azria Permanently Closes the Doors of 120 Stores
Designer Max Azria opened his first boutique in trendy L.A. in 1992. It was a different era. The world was on the brink of the Internet revolution, but brick-and-mortar shopping was still the norm. Less than three decades later, the shopping habits of the majority of Americans would be forever changed.
Court papers filed regarding the bankruptcy of BCBG Max Azria cited the shift toward online shopping as the primary cause. Documents also mentioned that consumers were turning away from branded apparel.
With a $459 million debt, the company found itself short despite celebrity support at red carpet events. Actress Kate Winslet and music stars Victoria Beckham, and Alicia Keys have all donned BCBG Max Azria fashions at various events.
Job cuts to its staff of 4,800 employees, as well as other measures to cut costs, are in the offing.
Payless ShoeSource Files Chapter 11 to Pay Less to their Lenders
Payless is a household name for low priced sneakers, dress shoes, and casual shoes for men and women. Unfortunately, being well-known wasn't enough to keep buyers coming through the doors. Payless became another of the once-beloved American businesses filing for bankruptcy in the past year.
The global company found itself owing more than it could comfortably manage. Approximately 637 stores got the boot, while the company writes off over $1 billion in liabilities. The company has plans to restructure and rebuild upon its strengths.
There Goes The Bride – Alfred Angelo Bridal Files Chapter 7
After 80 years of helping brides-to-be say yes to the dress, Alfred Angelo closed all 60 of its company stores around the country. After being sued for $45,214 in back rent for it's Delray Beach, Florida headquarters, the bridal gown company filed for Chapter 7 bankruptcy.
Over 1,400 affiliate bridal stores were also affected, leaving thousands of women wondering if they'd be receiving the wedding dresses they'd ordered. Many of them, as it turned out, would not. Refunds were offered, but many dresses were not.
Help for Businesses Filing Bankruptcy
Filing for bankruptcy is an opportunity to clear even massive debts that are crushing your business and threatening your future. Turn to the Office of Bansmer Law, where businesses filing bankruptcy can trust that they'll get the best advice and guidance. Call today at (209) 474-2400 for a consultation now.
Back to blog home