HIRING AN EXPERIENCED STOCKTON DIVORCE LAWYER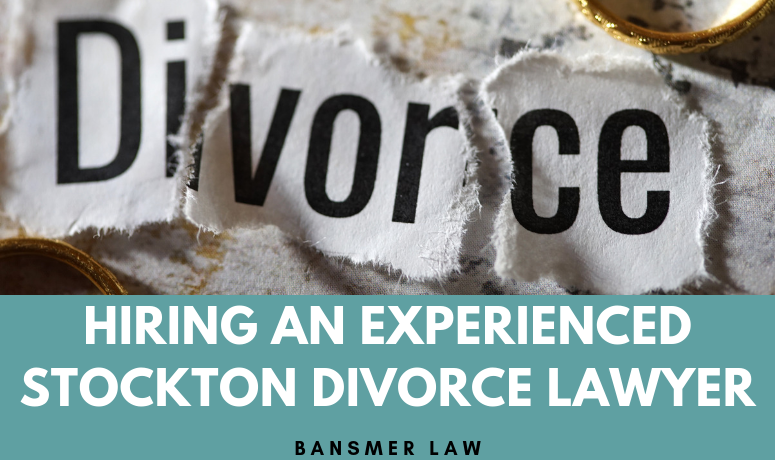 Aug, 08 2019
Coming to the end of a difficult relationship that was once based in love is a challenging obstacle to face in life. There are so many factors to consider and decisions which have to be made. Approaching divorce and legal separation requires legal counsel with your best interest at heart. Understanding the need for such counsel and securing experienced representation could play a huge role in the outcome of your divorce. Finding divorce lawyers in Stockton Ca is not something to b taken lightly.
The attorney you hire could be the difference between a short, peaceful and amicable divorce or a long, drawn-out, and hostile litigation battle.
Finding Divorce Lawyers in Stockton Ca
An initial search of divorce lawyers in Stockton Ca, will produce a number of results. However, the best identifier of the proper legal counsel to represent you in your family law matters is a strong history of client-focused results. Understanding the client's goals and placing them at the forefront of all strategies used during the divorce process is key to ensuring that the client's needs are the priority.
Many divorce attorneys overlook the need for conducting an in-depth consultation with their clients to frame the larger picture for the client's case. For example, an important aspect of any divorce case is the clients desired relationship with their former spouse post-divorce procedures. The understanding that the client prefers to preserve an amicable means of communication after the procedures are complete plays a huge role in the aggressive and compassionate strategies employed by counsel.
A Stockton Divorce Attorney That Cares About You and Your Children
Another important factor is that when a client is divorcing with children, it's important that you have an attorney that is looking out for both the client's needs and the children's needs. Having an attorney that sets realistic expectations about the parameters of a divorce settlement where children are involved is essential to your case.
Some client's feel the need to make rash and overly emotional decisions because of the pain associated with divorce, and some attorneys give into these decisions because it satisfies the client on a short-term level. The problem with this is that these rash decisions often time cause long-term consequences that are a detriment to both the client and their children. It's important to have a Stockton divorce attorney who can see the long term consequence of certain actions. At Bansmer Law we are dedicated to making sure you are satisfied on a long-term basis with the results of your divorce.
A Stockton Divorce Lawyer With Asset Division Experience
Another important requirement for hiring a good attorney is that they should have proven experience in asset division. When divorcing, you certainly don't want to lose everything you've worked diligently for and a divorce handled by the wrong attorney could leave you penniless. Your Stockton divorce lawyer at Bansmer law will protect your assets and guide you through the mediation process to determine what is marital property and what isn't, as well as work on compromises for certain non-negotiable items.
Call An Experienced Stockton Divorce Attorney Today
At Bansmer Law we dedicate our resources and extensive legal experience to representing clients while holding true to that philosophy. Family law requires a level of discretion, compassion, and understanding so that the best outcome for the children involved and the family at large is maintained. If you are considering a divorce or legal separation and you reside in the Stockton area contact Bansmer Law to schedule a consultation with the best divorce lawyers in Stockton Ca. Call (209) 474-2400 for more information.
Back to blog home